The health care system has been impacted significantly due to the rapidly growing number of COVID-19 cases. A shortage of basic medical supplies, personal protective equipment (PPE) and medical technology has been a major challenge for health care professionals around the world.
Researchers from the College of Engineering & Computing (CEC) and the College of Communication, Architecture + The Arts (CARTA) saw the immediate need to build upon existing platforms to help the health care system and address the shortage.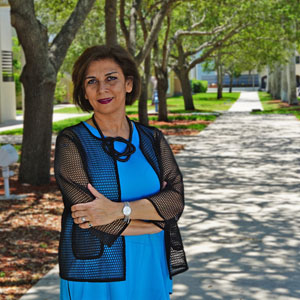 Through a National Science Foundation (NSF) RAPID award of approximately $160,000, titled A Platform for Mitigating the Impacts of COVID-19 on the Healthcare System, the researchers will create a platform, using artificial intelligence and augmented reality, as a digital "hub" for PPE training.
In addition, the platform, which is a mobile app, will support innovation and the manufacturing of essential medical equipment through the element of networking, where end users can connect with manufacturers.
"Through our team-building efforts, experience and developed technology for the Robotics Academy, we are in a strong position to contribute to training efforts of medical professionals for operating highly technical machines while protecting themselves, as well as providing networking capacity for problem-solving among stakeholders," said Shahin Vassigh, principal investigator, professor and director of Technology Research Development at CARTA.
Read more at FIU News.